CHARITY KNITTING – CHILDRENS' SWEATERS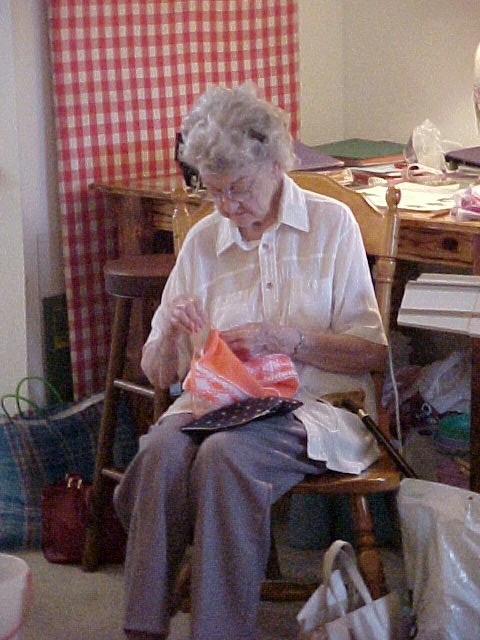 This page is dedicated to Mineola Grumbles, who named our club and who knitted an amazing number of items for children's charities. Mineola used to say that it's fun and easy to knit for children's charities because you don't have to worry much about gauge – it will fit one of the kids! Also, she always told us that if you knit for the children, one day you'll see a child wearing a sweater you made.
In every community, there are local charities that serve children, as well as outreach missions that send warm clothing to needy kids outside the community.
For 2007, Diana decided that it would be fun to come up with an assortment of patterns for children's charity projects that would be quick, easy, and practical. Check out the English Rib Sweater – it's even faster, and it's an opportunity to practice your ribber skills.
Fair Isle Child's T-Sweater

Adapted by D. Sullivan

Yarn: a 2/12 like Trenzado or Trenzi, 2 strands 2/24

Machine: Standard gauge Brother with ribber; patterning not needed

Tension 3 for ribbing, tension 5 for stockinette

Gauge:

7.75 stitches and 11 rows in fair isle or stockinette

Front and Back Pieces:

Size 2

Size 4

Size 6

Size 8

Size 10

Width Across in Inches:

12.25

13

13.75

14.5

15.5

Starting at bottom edge

Stitches to Cast On:

96

102

108

114

120

Set up for 1 x 1 rib

T 0 Zigzag Row

Hang Comb & 2 lg wts

T2, Circular knit 3 rows

T3

RC 000

Rows to knit in 1x1 rib

8

8

10

10

12

Switch to fair isle pattern

Length to armholes

9.5

10.5

11.5

12.5

13.5

Rows to knit

96

108

116

128

136

RC #

104

116

126

138

148

Place marker

Length of armhole

5.5

6

6.5

7

7.5

Rows to knit for armhole

60

66

72

78

82

Knit to row #

164

182

198

216

230

Switch to 1 x 1, T3 background color

Knit in 1 x 1 rib

8

8

10

10

12

RC #

172

190

208

226

242

Mark for neck opening

26,26

26,26

28,28

30,30

30,30

Change to big tension, CO

Sleeve:

Width across:

11

12

13

14

15

Cast on in 1 x 1 rib T3

86

94

102

110

118

RC 000

Knit to row #

8

8

10

10

12

Switch to stockinette, T5

Knit __ additional rows

72

74

82

86

88

RC #

80

82

92

96

100

Cast off LOOSELY