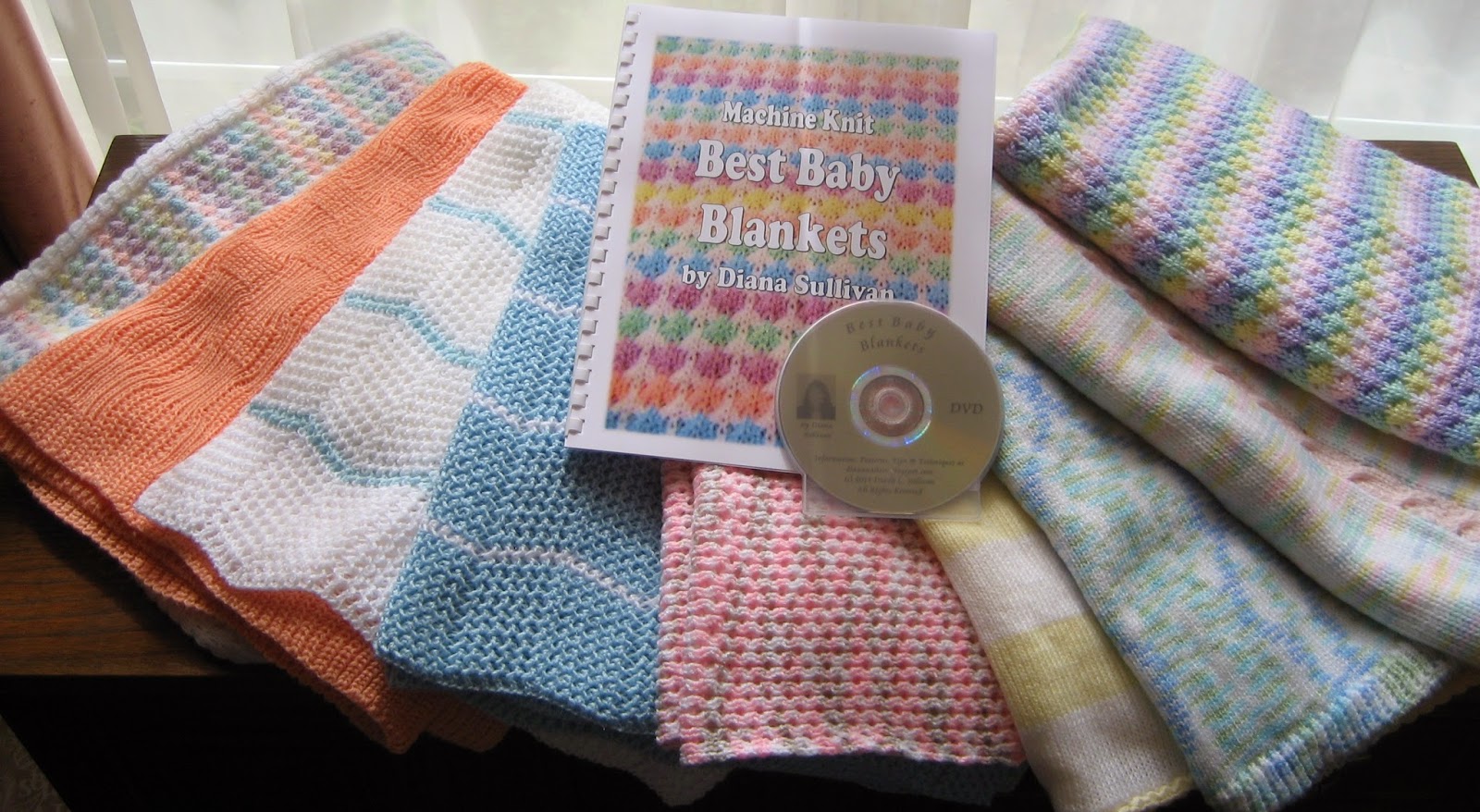 The photo shows
some
of the blankets. My sample bag had twice this many, but you can only get so many in one photo. I hope this book will become one of your favorites, because it has a bunch of projects and some fun, different techniques.
A baker's dozen blanket designs are included with this book and DVD combo:
Fold-Over Edged Blanki
e - for virtually any machine in any gauge, this one's a simple little thing you could have a beginner do as a very first project. The big trick here is the edging, a simple tucked strip that you sew around the edges, hiding ends and making your blanket lie flat. (Try this edge around a neckline!)
Baby Quillow
- a "quilt" and folds into a "pillow," a fun introduction to quilted stitch using your ribbing attachment. This is a good one for standard and bulky gauge machines with a ribber and patterning device for knitters who want to try something quite different.
Panels and Cables Blanket
requires only a single bed machine. Put your panels together with a contrasting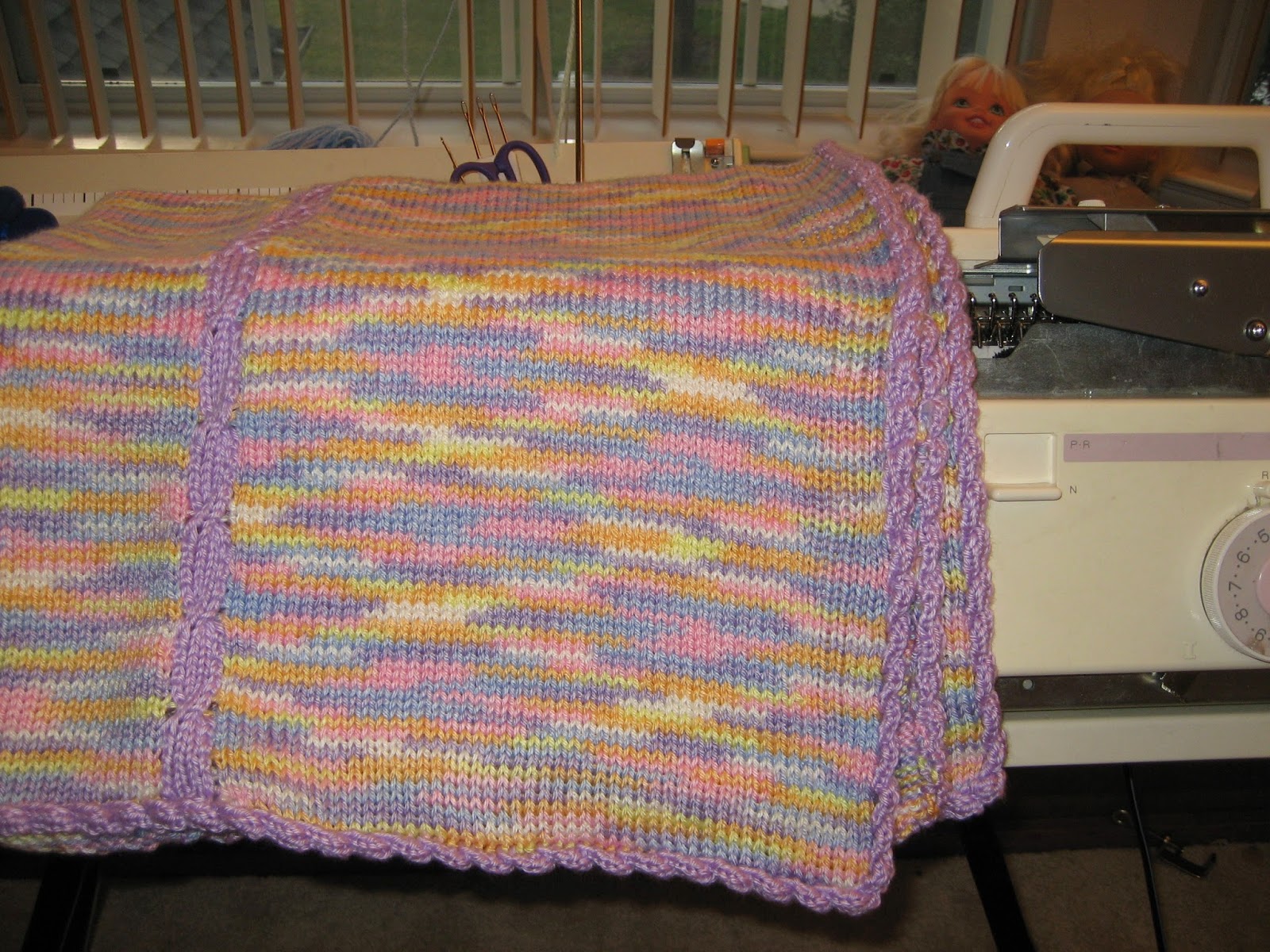 cable stitch, edge the blanket, and you're finished. Beginners can do this one, too, and it makes one of the best full-sized adult afghans if you want to enlarge it. For standard, mid-gauge, and bulky machines.
Short-Rowed Pinwheel Blanket
for standard, mid-gauge, and bulky machines. This only requires a main bed. You'll be surprised how quickly you can knit a sizeable, circular colorful blanket. Skill rating? Easy.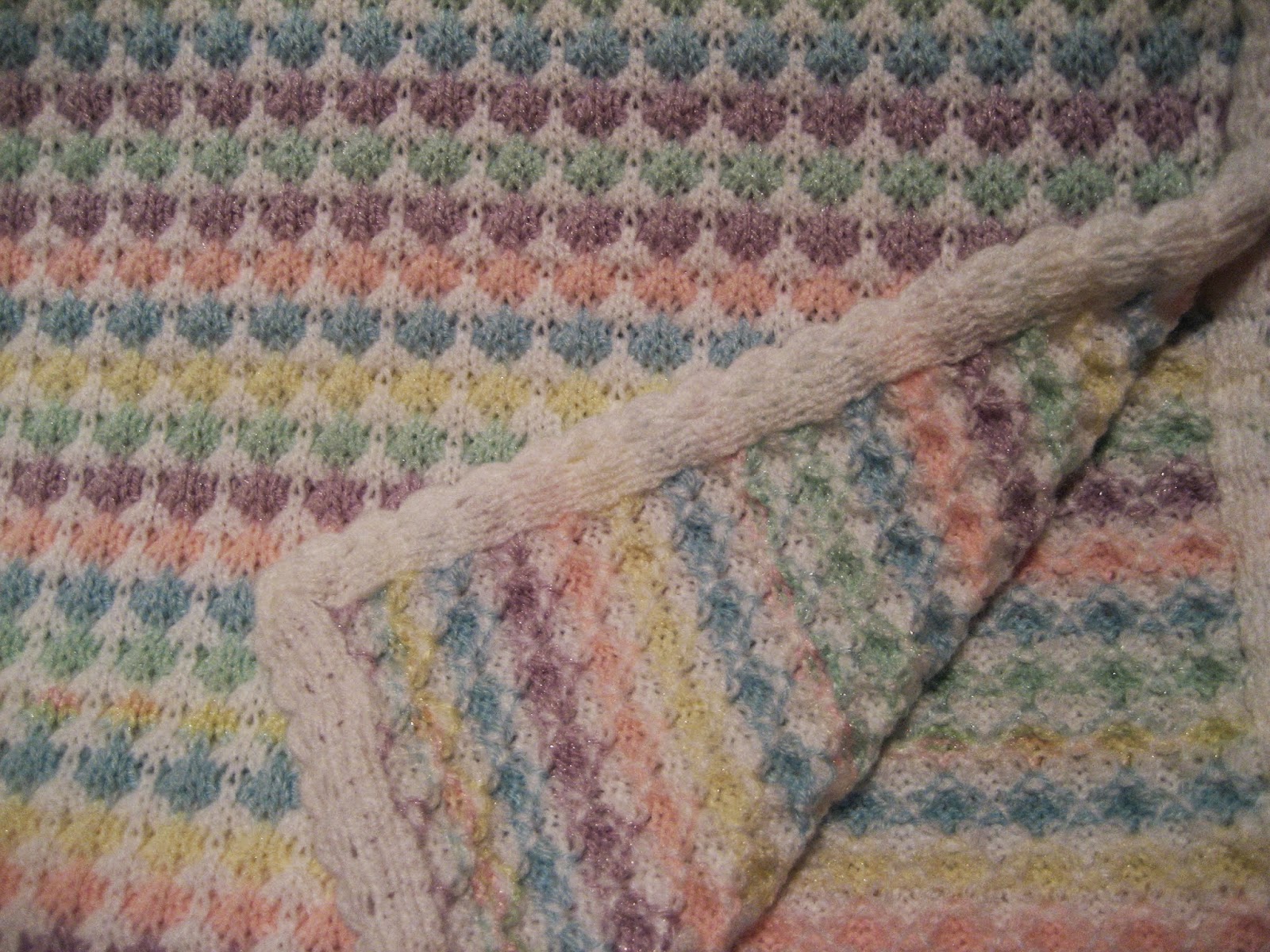 Multicolored Tuck Stitch Blanket
- Here's a great blanket with no ribber and no patterning device required, also an easy one. As I've shown these blankets to knitters, this is the most-requested pattern. I've included instructions for standard, mid-gauge, and bulky machines, instructions for doing it fast with a patterning device, and instructions for making the stitch by moving the needles by hand.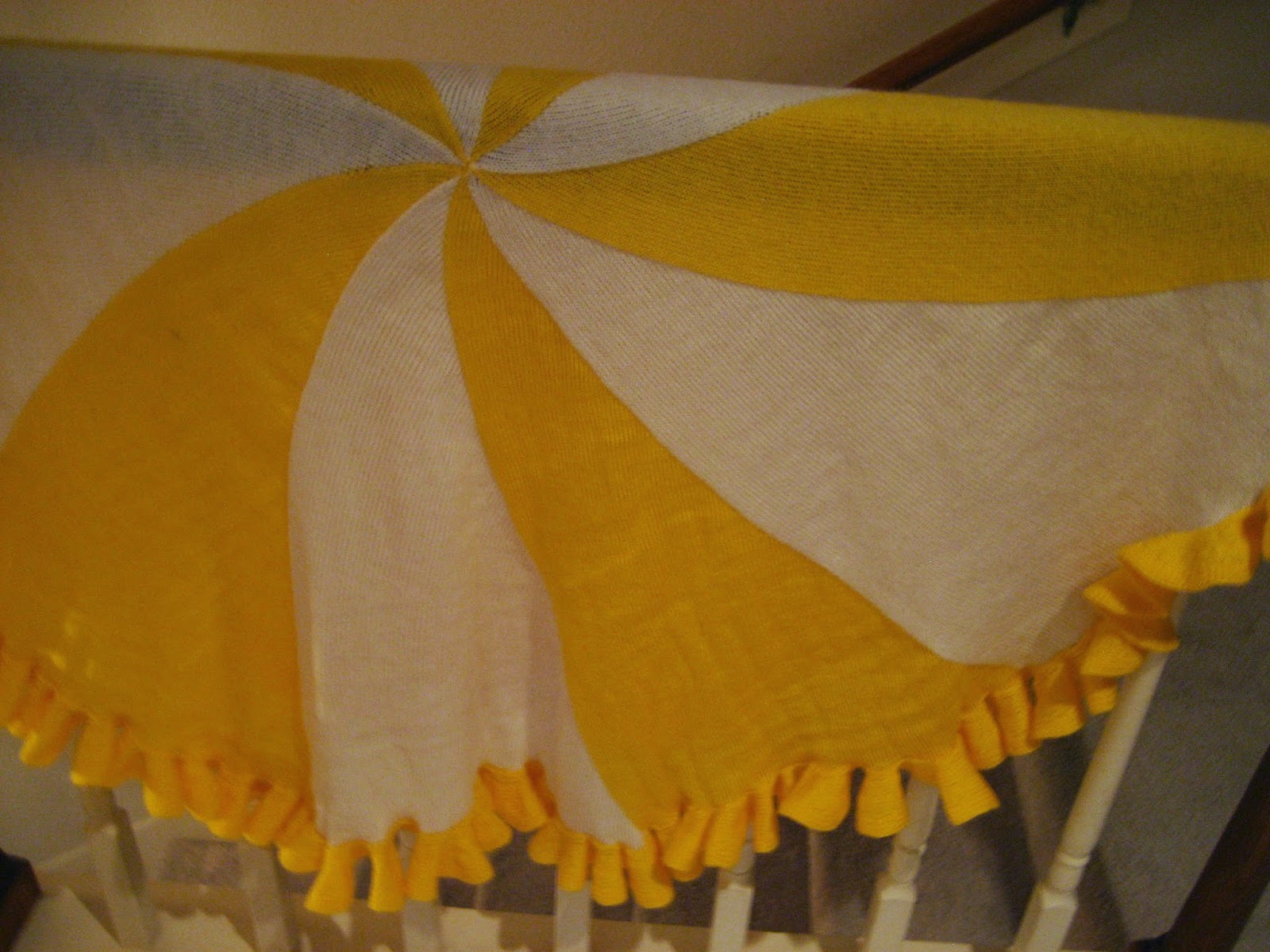 Circular Swirl Blanket
- this old favorite came back, and I dressed it up, featuring it for bulky and standard gauge, and filmed it on the standard gauge with a very unusual, optional circular ruffle trim made using your ribber. You can make this blanket with our without a ribber, though.
Long Stitch Blanket
for standard and bulky machines does require a ribber to make the simple, built-in edging that lies beautifully flat. You need to learn this edging! You'll find lots of other uses for it.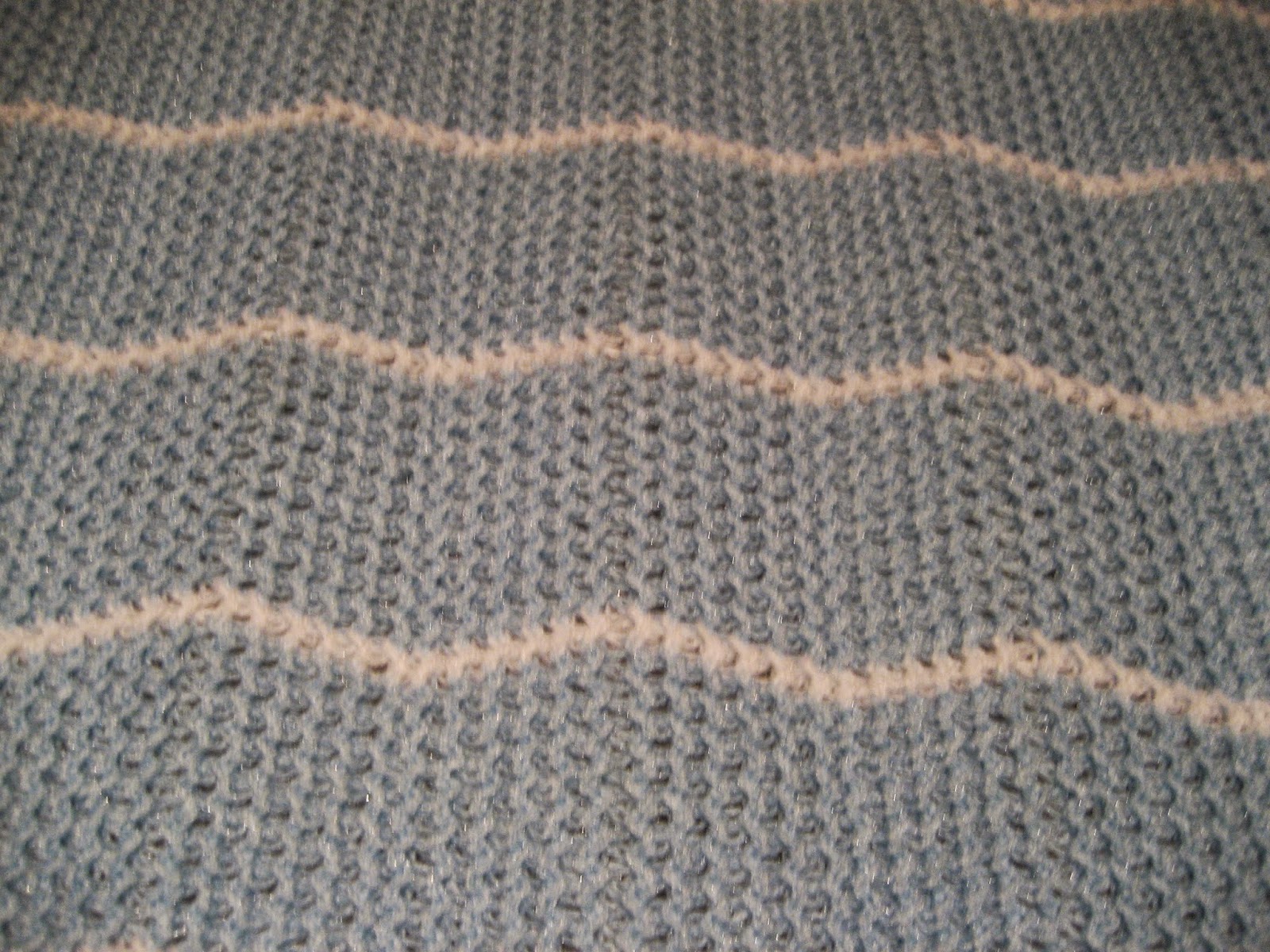 Racked Ripple Blanket
requires a machine with patterning and a ribber to knit a fascinating, puffy "ripple" stitch. I tried this one with scraps, doing a zigzag stripe of each color and also with a planned color scheme.
Reversible English Rib Blanket
is for both bulky and standard gauge machines with a ribber. This warm, versatile pattern stitch can be whipped up quickly. Once you bind off and hide your starting and ending yarn ends, you're finished.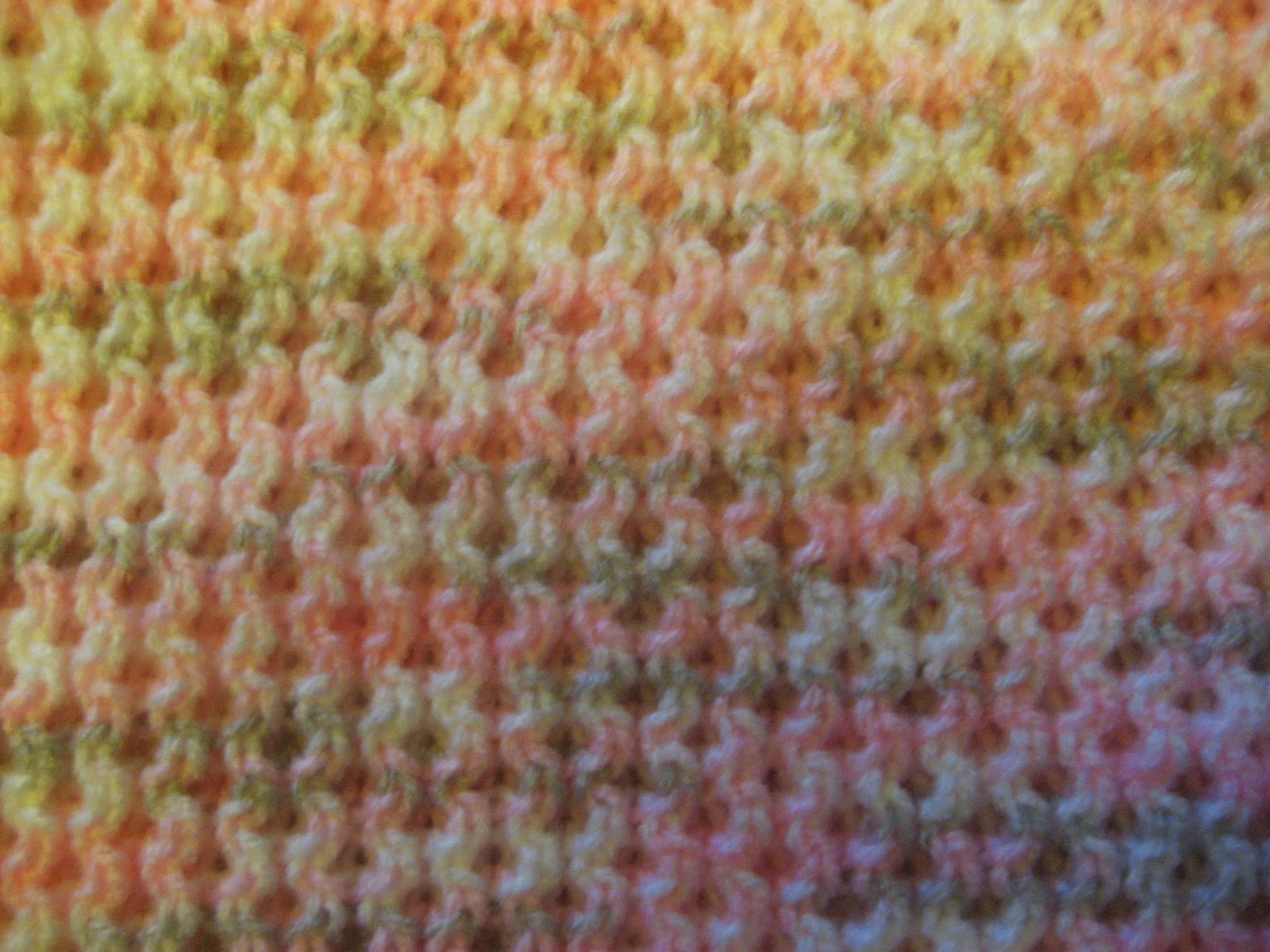 Honeycomb Blanket
for standard gauge machines with a ribbing attachment uses the very popular honeycomb tuck stitch to produce a thick, thermal blanket. You may ask, why so many ribber blankets? Again, it's because when they come off the machine, you hide a couple yarn ends, and you're finished!. They're all thick, warm and gorgeous. Besides, I want you to enjoy using your ribber more. ;)
Fisherman Rib Checked Blanket
utilizes the patterning device to have blocks of fisherman rib and blocks of plain ribbing, plus a plain ribbed edging for a terrific, professional-looking fast project. I like all these tucked rib blankets best on the standard gauge machine for babies, but try them on your bulky for luxurious blankets for adults and older children!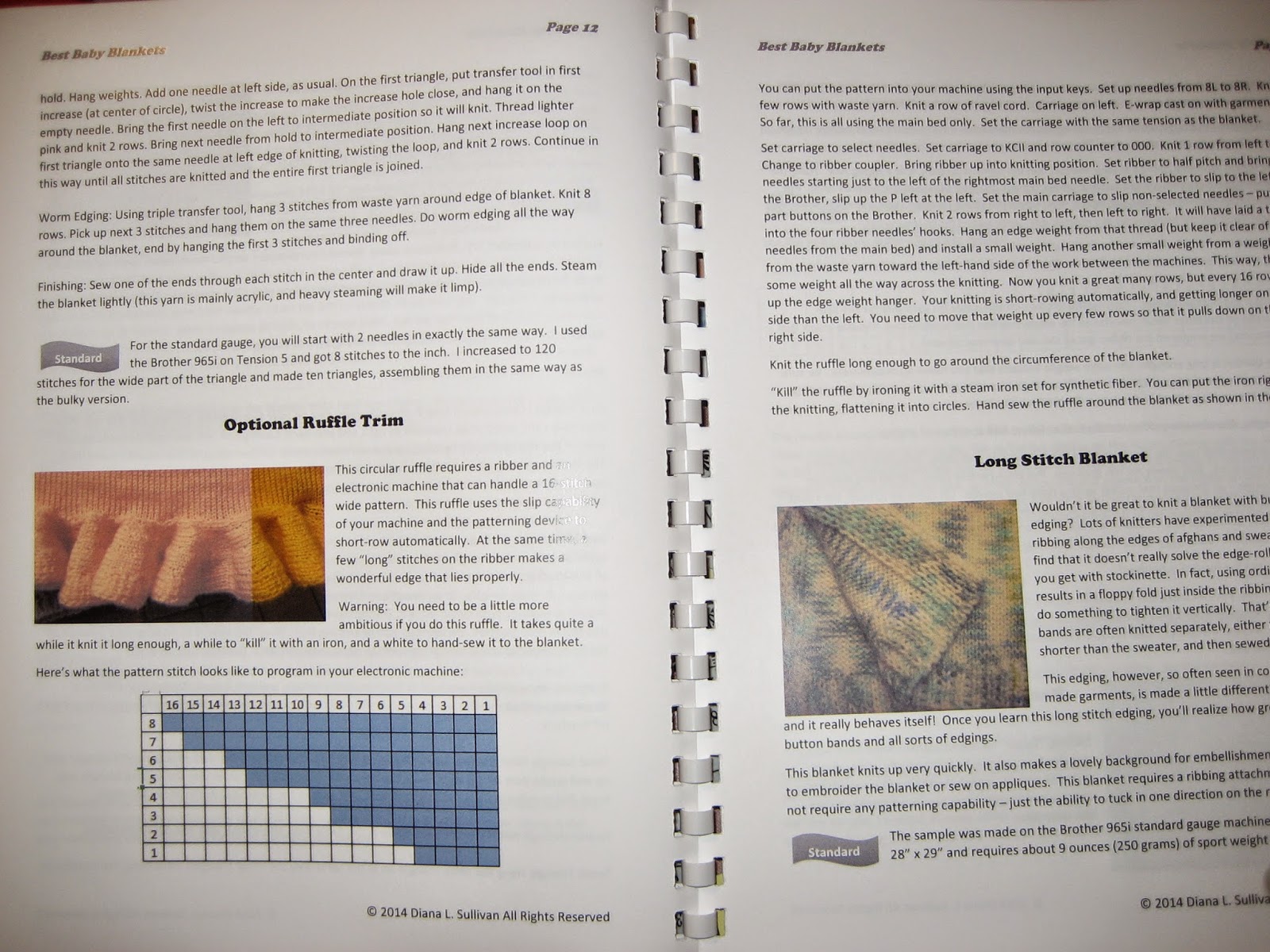 Waffles Baby Blanket
and
Wiggles Baby Blanket
- two more terrific thermal ribber blankets. Waffles doesn't require patterning and can be hand-manipulated. Wiggles stitch is really similar, but uses patterning to add some variation and make the process more automatic.
If you've purchased my products before, you know that I do full-color books with lie-flat coil bindings, include plenty of photos, avoid abbreviations, and use clear diagrams.
The book and DVD come as a set for $25 plus shipping. This DVD contains three hours, twenty minutes of high definition video, that looks crisp and clear even on a humongous television screen, showing how to do the techniques, detailed, up-close views.
Click here for shipping and Tax Information, both U.S. & International.